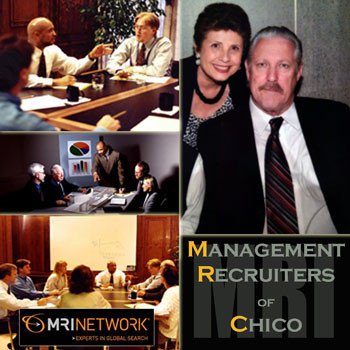 At Management Recruiters of Chico, we are always looking for qualified and talented candidates and continually servicing client companies to place these candidates.  
Our office is located in Chico, California; however, we conduct business on a national level through the networking of 1,100 affiliated offices and associates.  Contact us by phone, fax, mail, or email if you would like more information. 
Phone: 530.592.9898
Fax: 530.892.8668
Email:  execusrch@msn.com
Physical Address:
2060 Talbert Drive, Suite 120
Chico, CA 95928
Professional Recruiting Services
MRI Chico provides a specific and focused approach for management search services at all levels for companies and candidates nationwide.
Industry Expertise
Our account executives are experts in their industry specialties. For example, The Food, Flavor and Ingredient Group; they understand the trends in your industry, and how they impact your unique staffing challenges.
Expertise & Reliability
MRI Chico is independently owned and part of the Management Recruiters International (MRI) family, the world's largest search and recruitment organization.